Tsinghua University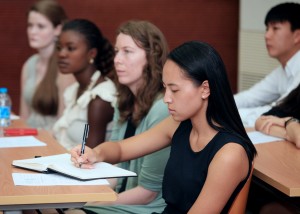 MENG Bo (Ms.)
MDP Director
bomeng@tsinghua.edu.cn
YIN Chengzhi
MDP Co-director
yincz@tsinghua.edu.cn
An'an YANG (Ms.)
MDP Field Experience Coordinator
mid@tsinghua.edu.cn
 Launched in 2007, the Master of Public Administration in International Development (MID) degree program at Tsinghua University's School of Public Policy and Management is a two-year MPA program. It is designed to deliver a strong academics and practical foundation for students to become active global citizens and specialists in Chinese development. In 2009, Tsinghua University was selected by the Master's of Development Practice (MDP) program, created by the MacArthur Foundation in the United States, as one of the ten universities worldwide, and the only university in China, to launch a Master's program with the goal of cultivating a new generation of international development professionals. While the program is located in Beijing, China, the MID Program harnesses a unique experiences of development from an international perspective with emphasis on sustainable development and Chinese practices.
Program Features
Students may choose to curriculum tracks between International Development or Chinese Public Affairs among 30 course selections.
In order to give students the opportunities to gain first-hand knowledge of integrated development approaches in a real-world context, the MID Program further enhances the field training through various opportunities such as internships, field trips and guest lectures.
Since 2007, MID program created a platform to bridge different expectations for 213 MID students from 52 countries with diverse backgrounds. The program has been a tremendous success in educating development practitioners globally.
An enriching global alumni network has been established since the creation of the program including 168 MID students who have graduated and committed themselves to careers in international organizations, governments, NGOs, foundations and enterprises around the world.
To learn more about Tsinghua's MDP program, please go here http://www.sppm.tsinghua.edu.cn/english/MID/