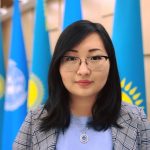 By:  Gaukhar Nursha
The MDP/Global Classroom program dramatically changed my life back in 2011-2012. It was a time when I started my Master's degree in International Relations at Al-Farabi KazNU. I envisaged a year in a comfortable and familiar environment,because I was an alumna of the same department. But Iater on, I was selected for the MDP/Global Classroom Program, which allowed  me to embrace new opportunities.
Firstly, I benefited a lot from crossdisciplinarity of the curriculum. At the very beginning, I had a hard time navigating through group projects with coursemates. I got pretty much used to our faculty members and specific jargon while studying at International Relations department. Whereas Global Classroom was 'a melting pot' of students from different fields: biology, ecology, philology, economics and etc. Thus, I believe, the program design emphasized the following – real world challenges are not homogeneous and require mixed approach of practitioners from various settings.
Secondly, the course enabled us to delve into international development concepts and work in general. As a student, I knew major International Relations theories, UN and world history as well as international treaties. But we rarely covered how such big institutions coordinate their work and handle projects. MDP curriculum engaged best Columbia University professors, who previously worked either as consultants or as employees of various international organizations. Project management principles were at the cornerstone of all our assignments. By studying specific cases, we were able to fathom them completely. That is why such an experience allowed me to succeed during my internship with UNDP country office in Kazakhstan, and then even land a job at an international NGO.
Last but not least, I made friends with highly competent peers. It's priceless! Our professor and mentor, Mr. Abazov would also repeat this: "Even your personal life is a project." I believe that such an approach to life would be useful for every young person during these uncertain yet full of opportunities times. I express my deep gratitude to the MDP/Global Classroom program's great supporters and implementers from the very beginning: Rector of KazNU, Academician Galym Mutanov, First Vice Rector, Prof. Mukhambetkali Burkitbayev, Dr. Galiya Ibrayeva and Prof. Rafis Abazov. I hope that more than one generation of Al-Farabi Kazakh National University talents will benefit from this amazing program!
Gaukhar Nursha ­ Programme Management Assistant, UN ESCAP Subregional Office for North and Central Asia / MDP Alumni 2012.