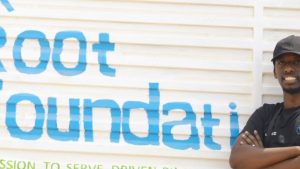 Muragwa Cheez Bienvenue is a first-year student in the MDP program at Regis University, Denver, Colorado.
As Muragwa reflects from Rwanda on the first year of his MDP program, which is one of the few in the global consortium of MDP programs to be held online, he shares that he is looking forward to meeting like-minded people who will not only help him grow but who also could be potential partners in the future. More practically, he believes that the skills and experience he will acquire and the friendships and connections he will make during his time in the MDP program will definitely help him in the future.
Regarding his favorite classes at Regis, he mentions one on community development. As he puts it, "I had done several trainings on community development and organizing, and I had been putting so much 'freestyle' effort into the development of different Rwandan communities since 2012, but the Participatory Planning class was my first time to actually think and reflect critically on how much and how effectively I engaged the people I worked for in the decision-making process."
Muragwa also shares that he learned the power of community participation through this class. "I saw how it makes a big difference to engage the communities we serve in the planning of their own development plan and implementation. As the founder and the executive director of my organization, I always recognize the influence I have over my team, the beneficiaries, and the direction of the organization, and this course also enlightened me about opening the conversation space so that each team member feels safe and comfortable to share their ideas and to always make sure that, in the meetings for example, my idea is just like any other's idea, without a tendency to impose my ways on the rest of my colleagues." Other classes that he looks forward to taking online from Regis University include: Humanitarian Development Nexus, Education for Sustainability, and Financial Resource Development.
In addition, Muragwa is the co-founder and executive director of the Root Foundation, a non-governmental organization (NGO) in Kigali, Rwanda. The Root Foundation arose from the belief that the response to the issue of street children should be directed at its root causes. Therefore, as important as it is to help many children to leave the streets, it is more important to protect every child from having to live there in the first place. As of February 2021, the Root Foundation serves 409 children and youth and their families. The Root aims to serve 2300 vulnerable children and youth by July 2024 and to affect their lives by building their character, talent, and confidence through a personal development program, encouraging their minds and passion for learning through a scholarship program, and building their parents' parenting skills and financial capacity through a parents' empowerment program.
The Root Foundation was founded in July 2012 by Muragwa Cheez Bienvenue and Patrick Kiruhura. In January 2014, the Root Foundation was first approved by the Rwandan Governance Board (RGB) as an NGO operating provisionally in Rwanda. In June 2016, the Root Foundation was officially declared a Legal Personality with the official name Root Foundation.