2019 Summit DATES, REGISTRATION AND FAQs
2019 SUMMIT DATES:
Tuesday, June 11 (MDP Summit Opens; 8am to 6pm)
Wednesday, June 12 (MDP Summit Continues; 8am to 6pm)
Thursday, June 13 (MDP Summit closes at 5pm.)
Friday, June 14 to Sunday, June 16 (Highly recommended Field Visit to Mukteshwar (Nainital District, India – approx.. 400 km distance from New Delhi) .  All Day /8am to 6pm – Field Visit- organized by TERI U.)
MDP SUMMIT REGISTRATION:
HERE Or  https://events.columbia.edu/go/MDPSummit2019
SUMMIT VENUE:
TERI School of Advanced Studies (earlier TERI University)
Plot No. 10 Institutional Area, Vasant Kunj, New Delhi – 110 070
Tel. +91 11 71800222, 26122222, 26139110, 26139011, Fax +91 11 26122874
FIELD VISIT:
Mukteshwar (Naintal District/Uttarakhand).  India
SUMMIT  AND FIELD TRIP COST:
The MDP Summit 2019 is open to members of the Global Association of MDP programs.  Those interested in learning more about the MDP program are also welcome to participate.
US$535 per person for registration INCLUDING
Three lunches
All day coffee, tea and water
Summit venue at TERI SAS
One dinner
Three-day Field Trip Fee to Mukteshwar (2 nights of lodging, 3 lunches, two dinners, water and fruit during the trip to field site and back)
Welcome Package
Summit Registration Fee
Airport Transportation is NOT included
Lodging for MDP Summit is NOT included
Breakfast during MDP Summit is NOT included
US$300 without the field trip
US$300 for the three-day field trip only.
SUMMIT LODGING:
MDP Summit Participants should arrange their lodging.  If you need assistance reserving any of the hotels please contact Ms. Doris Justina  (doris.justina@terisas.ac.in)  who will help us with overall administration and please CC to  Mr. Sandeep Arora (sandeepa@terisas.ac.in ), Associate Director, Administrative Services .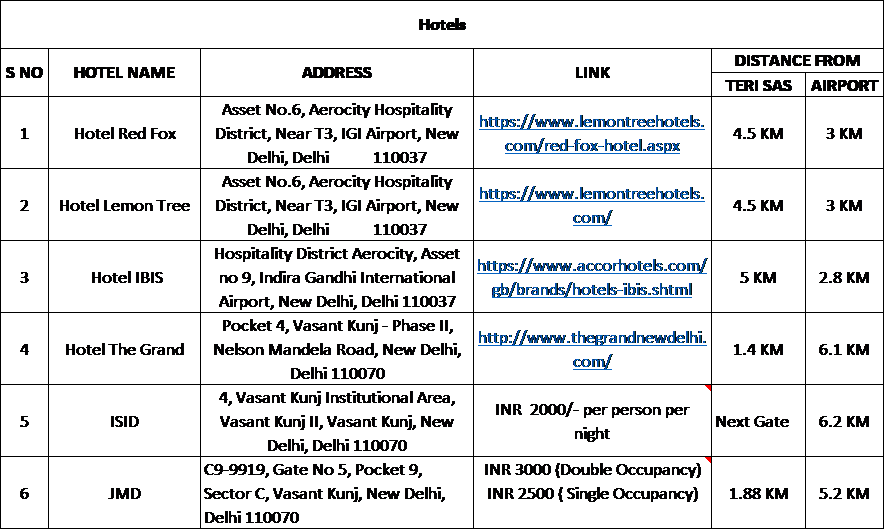 Please note that-
ISID and JMD are guest houses with minimum facilities.
ISID is next door to the TERI SAS Campus.
ISID and JMD have limited capacity.
ISID can be booked only through TERI SAS
Interested in ISID, please send an email to sandeepa@teri.sas.ac.in
MDP SUMMIT REGISTRATION:
HERE Or  https://events.columbia.edu/go/MDPSummit2019
FREQUENTLY ASKED QUESTIONS
 Where will the 2019 MDP Summit take place?
This year we will be meeting in New Delhi, India
TERI School of Advanced Studies (TERI SAS), will host this year's Summit
The MDP Summit venue will be at TERI SAS, New Delhi, India
Where can you REGISTER?
https://events.columbia.edu/go/MDPSummit2019
Who is invited to the 2019 MDP Summit?
Partner MDP Faculty Directors
Partner MDP high level administrators (e.g., Deans, Provosts, Rectors)
Guest MDP Faculty
MDP Students & Alumni
If additional members or your MDP academic institution are interested in attending, please let us know at (lrodriguez@ei.columbia.edu)
When should I arrive?
The official start of the 2019 MDP Summit is Tuesday, June 11 at 8:00am
How will I get from the Airport to the Hotel?
The cost of airport-hotel transportation is NOT included in your MDP Summit registration.
Cabs are easily available in front of the Exit Gates of all terminals of Delhi Airport.
Participants can either hire MERU cab – post-paid or also can have pre-paid cabs run by Delhi Traffic Policy.
What if I can only attend part of the 2018 MDP Summit?
We highly encourage you to attend the full MDP Summit.
The registration fee does not cover the full cost of each person's attendance. Therefore the registration fee will not be pro-rated.
Where will I stay?
It is recommended that the MDP Summit participants stay at one of the several options listed under SUMMIT LODGING.
In the view of TERI SAS, Hotel Lemon Tree is a good choice as it is well managed and reasonably priced. However, participants with higher budget may consider Hotel Grand which is quite close to the University.
All the hotels except ISID AND JMD offer breakfast in their package. Since ISID is next door to TERI SAS, participants staying there can have their breakfast and dinner at the University.
In Case of an Emergency while in New Delhi?
In case of any problems you can get in touch with either Ms. Preeti Dogra – 9582317811 or Sandeep Arora at 9811799046
What is the Field Site Visit?
Mukteshwar (Nainital District/Uttarakhand), India
Details will be available soon.
What are the Visa/Passport/Vaccination requirements I should complete before travelling to India?
Visa/Passport/Vaccination requirements to enter India vary from every country. Please contact your embassy with ample time to make sure you have completed the requirements before your departure.
Visit http://www.worldtravelguide.net/ for a general overview of these requirements
It is highly recommended to apply for a visa as soon as possible. The MDP Secretariat and TERI SAS will help facilitate invitation letters at your request.  Please contact Lucia Rodriguez, lrodriguez@ei.columbia.edu) AND Doris Justina  (doris.justina@terisas.ac.in)  with a CC to  Mr Sandeep Arora (sandeepa@terisas.ac.in )
if you need  an invitation letter,
In your request email please include: full name, academic institution or organization name, traveler passport number, passport expiration date, dates of travel in India.
What should I wear to the MDP Summit?
As New Delhi will be quite hot in June, you should wear casual business/light cotton clothes.
Participants going on the field trip to Mukteshwar trip should carry at least one/two sets of woolen jackets, caps, etc.  Evenings in Mukteshwar will be cold.  It is also hilly, so all participants should wear sport or trekking shoes during this trip.
MDP SUMMIT REGISTRATION:
HERE Or  https://events.columbia.edu/go/MDPSummit2019